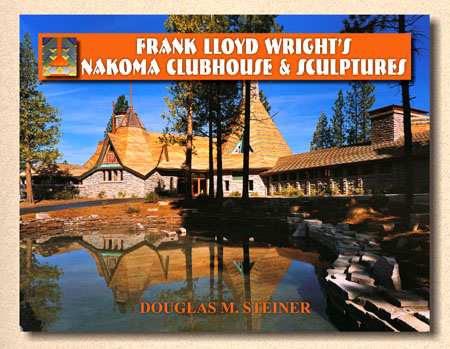 "Frank Lloyd Wright's Nakoma Clubhouse & Sculptures." A comprehensive study of Wright's Nakoma Clubhouse and the Nakoma and Nakomis Sculptures. In 1923, Frank Lloyd Wright presented drawings for a clubhouse to the Nakoma Country Club, which was adjacent to the Nakoma subdivision in Madison, Wisconsin. Nakoma was a Chippewa word that meant "I do as I promise." The Wisconsin State Journal called the Wright clubhouse "the most unique building of its kind in America." It would take nearly 75 years for this masterpiece to come to fruition. "Frank Lloyd Wright's Nakoma Clubhouse and Sculptures, A Historic Perspective" sheds light on their inception, terra-cotta, bronze and granite sculptures, an apprentice prince, exhibitions and finally completion. Nearly 100 images. A limited edition.
About the Author.
Douglas M. Steiner is the author of the on-line Frank Lloyd Wright Bio-Bibliography website, www.steinerag.com/flw, documenting over 12,000 books, periodicals, photographs and related items. He has published nearly four dozen on-line studies. He takes solace in the fact that half of Wright's work was created after he turned 60, including some of his greatest work: Fallingwater, Johnson Wax Headquarters, Taliesin West, and the Guggenheim Museum.
Now Available, $21.95 plus shipping.
Also available at Taliesin, Spring Green, Taliesin West, Scottsdale and the Nakoma Golf Resort Clubhouse, Clio, CA.